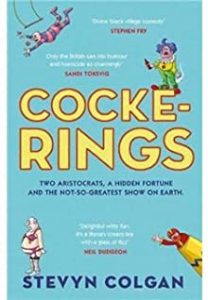 Stevyn Colgan's Cockerings is the next (?last) instalment of his South Herewardshire series of comic novels. When the circus comes to Shapcott Bassett, an avaricious brother tries to set up his very serious sister with the owner and ringmaster of the struggling Benelli's ageing and decrepit troupe. Things develop, but very definitely not as any character had hoped, expected, or could possibly have imagined.
The intertwining plot elements are light and deftly interwoven. There is room for truly outrageous, ridiculous slapstick (yes in a book) along with a bit of touching, gentle emotion. Classism, pride, money, jealousy, all the traditional stakes-raising elements stick their oars in to stir up trouble. I'd say the outcomes for the human cannonball jarred slightly – I felt this was out of synch with the feel of the rest of the story. However, this is small beans as a complaint – the scene was credible within the story.
Very funny indeed. In a quintessentially English setting, this farcical and absurd novel rolls in the vein of a quintessentially English comedy tradition. Cockerings is an Ealing comedy in book form.