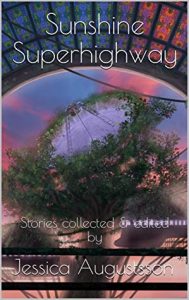 I'm not normally a big fan of short stories, so I wasn't sure about how I was going to like this anthology of speculative fiction stories. They've got a strong climate change aspect, as well as having strong female lead characters.
In short, I loved it. There were two or three that I did feel hadn't really done anything, or hadn't finished. This is my usual bugbear with short fiction, but even those few had set up an interesting scenario and were well written. But overall, really good.
I think the thing that struck me was the way I was constantly being transported to different scenarios, different worlds, different timelines, different characters and their roles. And that was super interesting. For me, the great strength of sci-fi is that world-building, the ideas of new places, new tech, and new lifestyles is the fun stuff. With a short story anthology, that comes in abundance. Hmm, time to rethink my ideas about short stories. Maybe!
Here's the blurb:
Solarpunk, cyberpunk with a hopeful outlook, futuristic fantasy, spec-fic stories that leave us with the idea that despite the doom and gloom in the universe, things can possibly work out if we strive to make life better, even if in a small way.