Signed copies of 2089 are available direct from the author, right here. Choose the delivery location from the drop down menu and then click on Buy Now.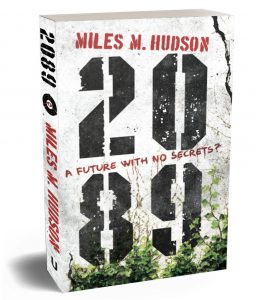 The blurb for 2089
"The year is 2089, and technologists have developed a system for remotely tapping into the optic and auditory nerves of all humans. Everything that people see and hear is detected and this is published publicly online; nothing can be secret. It is the ultimate surveillance society.       
Jack Smith blows up the old GCHQ building in Cheltenham, destroying the surveillance computers. He goes on the run across post-apocalyptic Gloucestershire, with old friend Vicky Truva. The two are chased by a ragtag posse, including Vicky's brothers, intent on bringing the apparent revolutionaries to justice. However, the fugitives have the advantage that the information and surveillance network is down…"
All Miles' books are also available from Amazon
Recent Physics textbook titles include Edexcel's GCSE Science and Additional Science scheme course books and Edexcel A level Physics Students' books (the exam board recommended book) and then the same for the International A Level for Edexcel Physics, and the perennial Longman 11-14 Physics.
You can check out all of Miles' physics books by clicking this link to Amazon
.
And then there's the amazing Best Fit Line Ruler.