UPDATE TO VIDEO: THE KIDNEY KILLER IS NOW PUBLISHED AND ALSO AVAILABLE HERE.

Penfold is the investigative genius in my series of detective novels also starring Detective Sergeant Tony Milburn. DS Milburn works for the police in Durham City in the northeast of England, and through a string of cases, Penfold helps him by making brilliant leaps to blow each case wide open.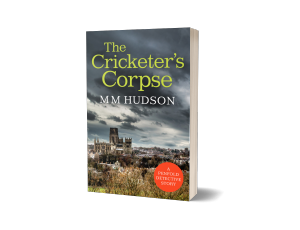 Our hero was born in Havelock in New Zealand, but now lives in a ramshackle old house by the beach near Hartlepool. He lives for surfing, the sea is his spiritual love. And he's a totally open-minded thinker, with the most incredible general knowledge, which combine to make him find it easy to solve mysterious cases. Tony Milburn is an everyman cop, having walked the beat in several County Durham towns, and now gets some of the juicier detective work that his ever-absent boss fails to undertake.
The first published novel in the series is The Cricketer's Corpse.
The Kidney Killer is the latest Penfold detective story, and was published in November 2020.