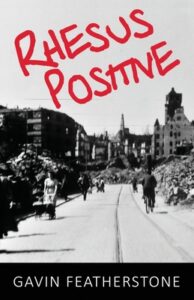 Gavin Featherstone has been an international hockey coach. A recent inheritance led him on an intriguing journey investigating family histories and the ultimate source of the money. When I interviewed him, Featherstone laughed about how he had fictionalised the history he had uncovered, but that those it affected would undoubtedly recognise all the players in the story.
Not quite a saga, this book ranges from kids playing in Second World War bomb sites, through the allies rebuilding Hamburg, a £10 POM painting art on a sheep station in Australia, via Mod Pubs in 60s London, onto European mercenaries in 80s Africa, and finally back to Bermondsey where it all began.
All the individual scenes were great, like a collection of short stories. The trouble is that as we are hurtled forward in time to the next vignette, we never quite get the hang of the characters. They've changed significantly between each section and, whilst some traits are clearly maintained, the development of the characters is very staccato and at times not entirely convincing. This is a small criticism though – it's an enjoyable book which I gave 3 stars to on Goodreads. It's certainly the best of Featherstone's books to date.